62nd JOTA: October 18-20, 2019

Jamboree on the Air provides the opportunity for millions of Scouts around the world to meet on the air via Amateur Radio. Get ready for the 62nd annual on-the-air event!

Radio & Wireless Technology Patch

Girl Scouts can earn the new Radio & Wireless Technology Patch offered by ARRL.
Spring Camporee
Boy Scouts Include Amateur Radio in Spring Camporee

The Riverside District in South Brevard County, Florida, recently incorporated amateur radio as a part of its camporee.   The event was attended by 100 Boy Scouts from eight different troops.  At these events scouts compete in various skills like map and compass, fire building, cooking, etc.  This year Troop 314 from West Melbourne, the host troop, decided to include Amateur Radio as one of the events. 
As a part of the camporee competition, scouts compete in patrols normally consisting of about five members.   At the amateur radio event, scouts received points for listening to an overview of Amateur Radio and actually talking on the air. Jan Heise, K4QD, organized the event with the help of his grandson Aaron Ludwig, KJ4UQS, and members of the Platinum Coast Amateur Radio Society (PCARS).  Both Jan and Aaron are members of T-314.  Jan obtained special event station callsign K4R (for Riverside District).  They set up an HF station capable of contacting amateurs (often called HAMS) around the world, and a VHF station used for local area contacts.
PCARS members John Gerstner, K4LRP, and Marty Grove, KJ4LQX, came to the camporee and performed most of the HF operating while Aaron did the majority of the VHF operating and provided the Amateur Radio overview.  As a special treat, Chuck Green, AD4ES, flew his four passenger plane overhead while Eric Smitt, K9ES, operated both HF and VHF talking to scouts at the special event station. 
Scouts at the camporee were very interested in the Amateur Radio station, and almost all of them wanted to talk on the radio.  The group used primarily 20 meters on HF, and on VHF they used the PCARS 146.85 wide area repeater.  It was great to hear scouts say, "Wow, I just talked to Germany." or "Hey, that guy is in Canada."  Everyone agreed that the special event station was a success.
Girl Scouts Celebrate Thinking Day on the Air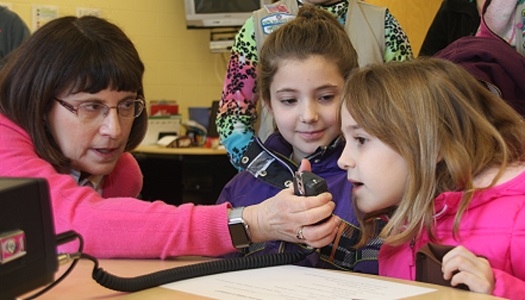 As part of annual "Thinking Day" acitvities celebrated each year in February, Girl Scouts also get on the air to share their thoughts.  Read about the Thinking Day activities hosted by Nashoba Valley Amateur Radio Club (NVARC) pictured above.
Review this invitation to hosting Thinking Day on the Air activities by J.W. "Skip" Youngberg, K1NKR and his daughter, Jill Galus, KB1SWV. Contact Skip for advice on organizing a club to support the event.
Learn more about Thinking Day on the Air.
ARRL offers a Radio & Wireless Technology Patch for Girl Scouts Brownie through Ambassador levels. Learn more.
ARRL Service to Scouting Award
Nominations are being accepted for this award authorized by the Boy Scouts of America's Community Organization Awards Program.  Leaders to be recognized for their contribution bringing Amateur Radio to scouts through various scouting activities and venues can be nominated for this award.  ARRL members can complete the nomination form and submit it to their ARRL Section Manager to authorize ARRL to issue the award certificate.  Receipt of the  ARRL Service to Scouting Award entitles the leader to wear the BSA Square Knot emblem. 
Please click on this link for a list of Amateur Radio Service to Scouting Award recipients.