What is an ARRL Youth Lounge?
A Youth Lounge is a booth or exhibit area at a hamfest organized to help young hams (and prospective young hams) meet and socialize with other each other. Whether you're 1 or 21, a Youth Lounge is sure to offer something that young hams will enjoy. Come to chat with other hams, listen to music, grab a snack or participate in one of many activities, such as fox-hunts, scavenger hunts, Morse code fun, a QSL card designing contest, crafts, prizes and more.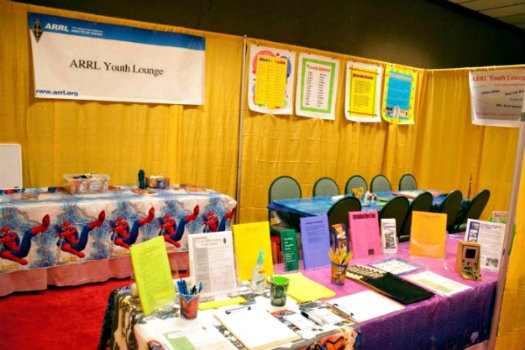 Youth Lounge Resources
Feel free to use the sample resources below at your next Youth Lounge:
Youth Lounge Kit
Download
Amateur Radio Hamfest Youth Lounge Kit.pdf
Description of materials in the Youth Lounge Kit; read this short file first. It is the guide to the whole concept of happy hamfest kids!
Are You Smarter...
Download
Are You Smarter Than A Technician.pdf
Handout that youth can use to get familiar with the question pool and to gain confidence in thier ability to learn what it takes to get their license.
STAT Answer Sheet
Download
STAT Answer Sheet.doc
Goes with "Are You Smarter Than A Technician" game...lets them record their results for prize purposes.
Evaluation Form
Download
Evaluation Form.pdf
Feedback form to solicit input from participants to see what they like , did not like and would like to see in the future. Very Important!
Scavenger Hunt
Download
Hamfest Scavenger Hunt.pdf
Great way to get young folks to interact with the old folks.
Morse Code Bracelets
Download
Morse Code Bracelets Poster.jpg
The younger kids love this activity. They can make a bracelet with their name in Morse Code.
Morse Code
Download
Morse Code.pdf
Morse Code handout; suggest that you print the phonetic alphabet handout on the back of the sheet. Two handouts for one piece of paper. They go fast and you will need the most of this handout over all others!
Morse Code Poster
Download
Morse Code Poster.jpg
Bright, colorful Morse code poster for all to see; useful for the various activities that use Morse code.
Phonetic Alphabet
Download
Phonetic Alphabet.pdf
Suggest you copy this on the back of the Morse code sheet.
Alphabet Poster
Download
Phonetic Alphabet Poster.jpg
This poster is great for when the youth are working on memorizing the phonetic alphabet.
Point Scale
Download
Point Scale.pdf
This is an example of the points we award for the various activities available for Youth Lounge participants.
QSL Poster
Download
QSL Card Decorating Poster.jpg
Instructions for how to make a QSL card; explanation of what a QSL card is...also makes great wallpaper to add color to the Youth Lounge!
Ultimate Hunt
Download
The Ultimate Scavenger Hunt.doc
Since one Scavenger Hunt isn't enough to keep young, curious minds busy all day, here's a second one. This one is unique because the items are actually collectible!
Secret Code
Download
W4CVY LEARN THE SECRET CODE.doc
A number of activities to get youth familiar with Morse Code and give them practical experience to go towards prizes.