Giving options
Your contribution to the ARRL Foundation can make a difference to Amateur Radio. Contributions of all sizes are welcome and may be designated to a specific Foundation program or to the ARRL Foundation General Fund. All contributions will be acknowledged with a tax receipt letter and are deductible to the full extent of the law.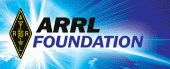 The ARRL Foundation, Inc. is a not-for-profit organization, incorporated in the state of Connecticut and operated under IRS Tax ID # 23-7325472.
To make a contribution to the ARRL Foundation
After completing the ARRL Foundation Donation Form, mail your contribution payable to The ARRL Foundation.  Please include your name (or group name), complete contact information and the name of the program you would like to support. If you are making a special contribution to honor an Elmer, friend or relative or marking a special anniversary, or as a memorial gift, please include that information.
Print and complete the Donation Form on this website and mail your contribution to
            ARRL Foundation
            225 Main Street
            Newington, CT   06111-1494
To make a memorial contribution
After completing the ARRL Foundation Donation Form, complete and mail your contribution with the name and call sign of the Silent Key.  Please include the full name and address of the Silent Key's family or representative so that we can notify them of your generosity. Memorial contributions may be designated for one of the existing ARRL Foundation Funds. 
 To establish a scholarship
New scholarships are created by agreement on Terms of Reference as to the selection criteria and funding of a scholarship award of $1000 or more annually. The Terms of Reference must be approved by vote of the ARRL Foundation Board of Directors. Individuals or groups wishing to make a scholarship contribution as a single memorial gift may support one of the existing scholarships or the ARRL Foundation General Scholarship Fund after contacting the Foundation Secretary.
Scholarships may be funded with an annual contribution by December 31 of the year preceding the first award, or endowed with a lump sum contribution of $25,000 or more to fund a $1000 scholarship award each year from earnings on a lump sum endowment gift.
 
Contact a Foundation Director or the Foundation Secretary by phone at 860-594-0291 or by email at foundation@arrl.org to discuss the process of establishing Terms of Reference for a scholarship, funding options, selection criteria and a timetable.   
 To make a bequest
If Amateur Radio has played an important role in your life, please consider leaving a legacy by making a bequest to the ARRL Foundation in your will or other estate plans.  In addition, gifts of stock or other securities may be used to contribute to any of the Foundation's growing programs. Contact a Foundation Director or the Foundation Secretary for more information.